Who am I?
An artist's biography
I made my first drawing when I was three years old. I used a piece of cardboard or maybe the back of a folder that I found in my mom's desk. I drew my favorite thing in the world – a dog. I tried to make the dog look realistic and appear to be walking. I am sure that it looked nothing like a proportional three-dimensional animal in motion, but it got my parents' attention. Since then they showered me with art supplies and encouraged my doodles. I was a sickly child and spent a lot of time home in bed, so I had plenty of opportunity to draw. I drew everything, every available moment of every day.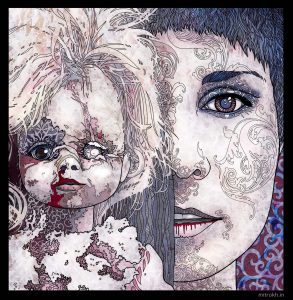 Fast forward three decades. I still draw on daily basis, but along the way I acquired a few extra tools and few extra skills. Of course, as any creative spirit, I am always learning and always improving. Being an artist is not a goal, it is a never ending journey. In my teens I began oil painting, inspired by the Renaissance legends in my art books. In my early twenties I became an exclusive tattoo artist, designing and inking customized tattoos for select clients. By mid thirties I discovered the magic of illustration and adult coloring books and began releasing my own published works. Simultaneously I've learned the craft of toy making, art restoration, taxidermy, and digital painting.
As a coloring book illustrator I like to keep my followers engaged and entertained with personal information about myself, as well as my art. Having others interview me is a great way for my fans to get to know me because I often have to address topics that I would never think to touch on myself. Here are a couple of fun interviews that I've done specifically as a coloring book illustrator.
Interview with Claire for the Clolour With Claire blog.
Interview with Leanne for the Coloring Queen blog.