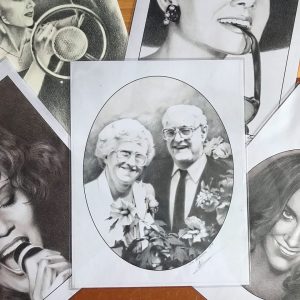 Despite all of our modern technology and the evolution of professional photography, a traditional hand-drawn portrait still warms the heart like nothing that your digital camera can ever deliver. A hand-drawn portrait says "heirloom", it says "a skilled professional was hired to make a one-of-a-kind depiction of you with her hand and her heart." A camera doesn't care about that spark in your eye when you look at your husband, while an artist will pick up on that. A camera will photograph anything and everything around you, while an artist will frame and crop and adjust the lighting to make you and only you the center of attention. The love and care that goes into drawing a portrait resonate more than anything that technology can deliver.
Order your portrait today
How it works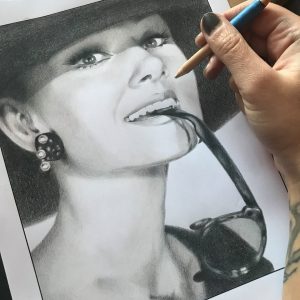 Easy!
Method 1. Via Facebook. Send me your photo or a photo of a loved one or a celebrity that you wish to be immortalized by my hand. Use this link to send me a private message. I, in turn, will mail you back your very own, guaranteed to be unique, physical drawing within two to three weeks of the order. Payment method – PayPal.
Method 2. Via ETSY order. I have set up an easy to purchase ETSY package here. ETSY offers many different payment options.
Regardless of how you wish to make your commission, the portrait will be done on 8.5 x 11 paper, in pen, pencil, charcoal or a combination of the three, in greyscale or sepia tones, and laminated for protection. It will be signed with my name, year, and signature. You may also request a personalized signature or a dedication.
I hope to hear from you soon. Please allow me two to three business days to respond to your message.
Samples