Odd Jobs
Unexpected projects and commissions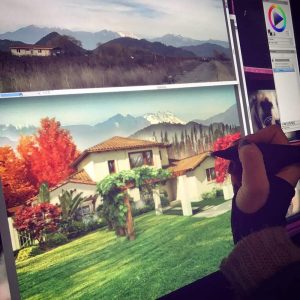 As a freelancer with hundreds of clients and contacts I often come across unexpected jobs. I never think of myself as just an illustrator or a tattooist, or a doll maker. I am an artist. Being an artist, I am able to learn different media and adjust to the demands of my audience. The artist exists because my imagination is allowed to run free and my technical skill is constantly trained and modified. If I am able to draw from my imagination, I should be able to design a restaurant logo as easily as I design a coloring page for instance. If I have an eye for tailoring my own dresses and corsets, it should be a synch for me to make a miniature dress for a tiny doll. The people who hire me for independent commissions do not hire me because they spotted something in my portfolio they wish me to duplicate. They hire me because they see that I have a nearly unlimited skill set when it comes to visual art, and a very personal approach to every project. My odd jobs have ranged from physically laying a mosaic fireplace to making a corset with provided buck skin. I have done logo design and real estate renderings, pet portraits and book covers, I have painted wall murals as well as human bodies. If you have an idea that you can feel but cannot visualize, that's where I come in. I like to extract the ideas from people's minds and translate them into a readable language of visual art.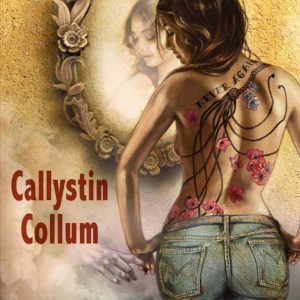 When Callystin Collum selected me to be the cover illustrator for her paranormal romance novel, she had no idea that I had worked as an exclusive tattoo artist for a decade. She just saw a page from one of my published art books and decided I was the person to reach out to. Turns out she had always wanted a tattoo artist to design her cover. It couldn't have worked out better. Cally's main character, Sarah, is a girl with a very personal tattoo that is so significant it is almost its own character. It was my job to get to know Sarah intimately enough to treat her as I would one of my tattoo clients, and design her perfectly tailored tattoo. Of course, the first order of business was to bring Sarah herself to life. Thankfully, a good writer paints a very clear picture of her characters, so I was able to envision Sarah right away.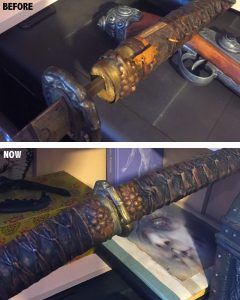 Having worked in an antique gallery for a couple of years in my early twenties, I have learned quite a few restoration tricks. I am often asked by friends and clients to fix their damaged oil paintings, collectable figurines, weapons and trinkets. This old sword, for instance, has suffered severe damage and rust. The decorative leather weave on the sheath and handle were stripped away in parts, the wood was partially cracked and partially swollen, and the gravity locking mechanism was not functioning. I recreated a matching leather design, having to paint and treat it to match not only the color but also the feel of the finished surface. I also did basic repairs on the wood work. It was a challenging project, but one that I enjoyed a great deal. The trick with restoration of very old objects is to avoid making them look shiny and new. I did no cleanup on the remaining undamaged parts, instead I matched my additions to their grime.