TALM is a unique community that brings together colorists, illustrators, and other creators to learn new techniques, share our projects and connect with others who have similar interests; so that we can take our creations to the next level, and gain comfort and confidence that transcend to other areas of our lives.
I thought I was just moving my Facebook coloring group to a new platform with more features, little did I know that TALM would almost instantly bloom into a beautiful and dynamic environment, where creators of all kinds mingle and learn from each other. TALM is no longer Lisa Mitrokhin's group. It is it's own beast, with Lisa Mitrokhin, yours truly, as its host and tutor to those who wish to partake in tutorials and lessons.
Together we pool our knowledge and become a community of scholars and creators!
– TALM member
TALM is free to join. All you have to do is knock. There're two ways to join. You can request entrance here, or you can be invited.
The platform, brought to us by Mighty Networks, is THE single most organized platform I have ever seen online. Certainly, it takes some getting used to, but it's very intuitive and friendly. Plus, me and my hosts are always online to answer any questions personally. Additionally, I invite you to watch this orientation event, where I walk you though how to navigate the platform both in a web browser on a computer screen and in the app on the small phone screen.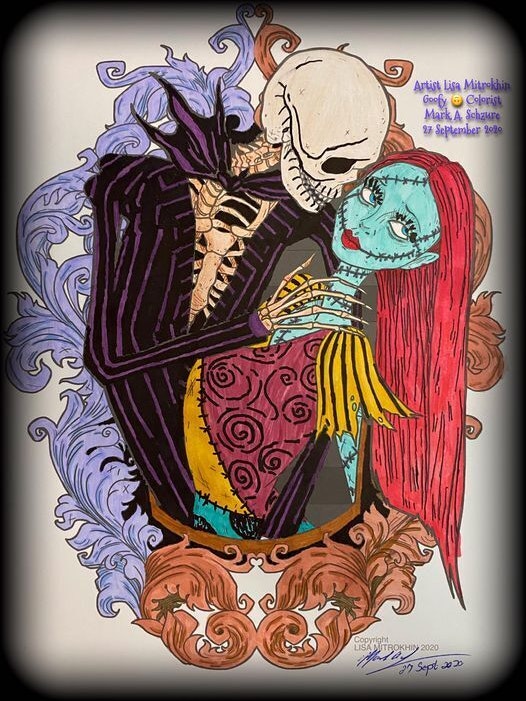 When you join, you're welcomed with a line-art drawing of Jack and Sally, by yours truly. If you're colorist, you may enjoy coloring it, otherwise, you're welcome to print the design on a coffee mug or a t-shirt, or use it as your screensaver, as long as it's for personal use only. Here's one already colored by a member.
Improving my skills and becoming more confident would mean that I've made my way. That I can learn something new, something out of the ordinary. Feeling more confident comes from trying new things.
-TALM member
TOPICS
Topics are like albums. Right now we have 9, but we can create as many as we like. In TALM, colorists are welcome to share their colorings of any page by any artist. We have no restrictions on style, subject matter, or media. In fact, we encourage you to try new things and find other people who may be playing with the same digital painting program as you are, or trying the same paper, or challenging themselves in the same way. Remember, the idea isn't to just to post and scroll. It's to mingle and learn. AND WE ARE, we're all already learning from each other.
Painters, illustrator, and creators of all kinds, are welcome to post their works and connect with people of similar intersts. We have diamond painters, tiny house collectors and builders, legos masters, comic illustrators…. People sew and weld, and carve wood.. Who knows who will join us next?!
INKTOBER is a hot topic right now. It's wonderful to see so many different styles and interpretations of the same idea.
We have TALM pets, and Theory and Practice, and a coloring game that we're all playing. TOPICS is my favorite section.
Oh, and one more fun topic is GIFT PAGES BY LISA. This is where I post free adult coloring pages for you to download and color, each with a corresponding YouTube tutorial. When you see a gift page you like, just click on it and see which video or multiple videos this page came from. The links are imbedded, so all you have to do is click and watch. To download the image for printing, just click, save, and print as you would any other digital download on other social media.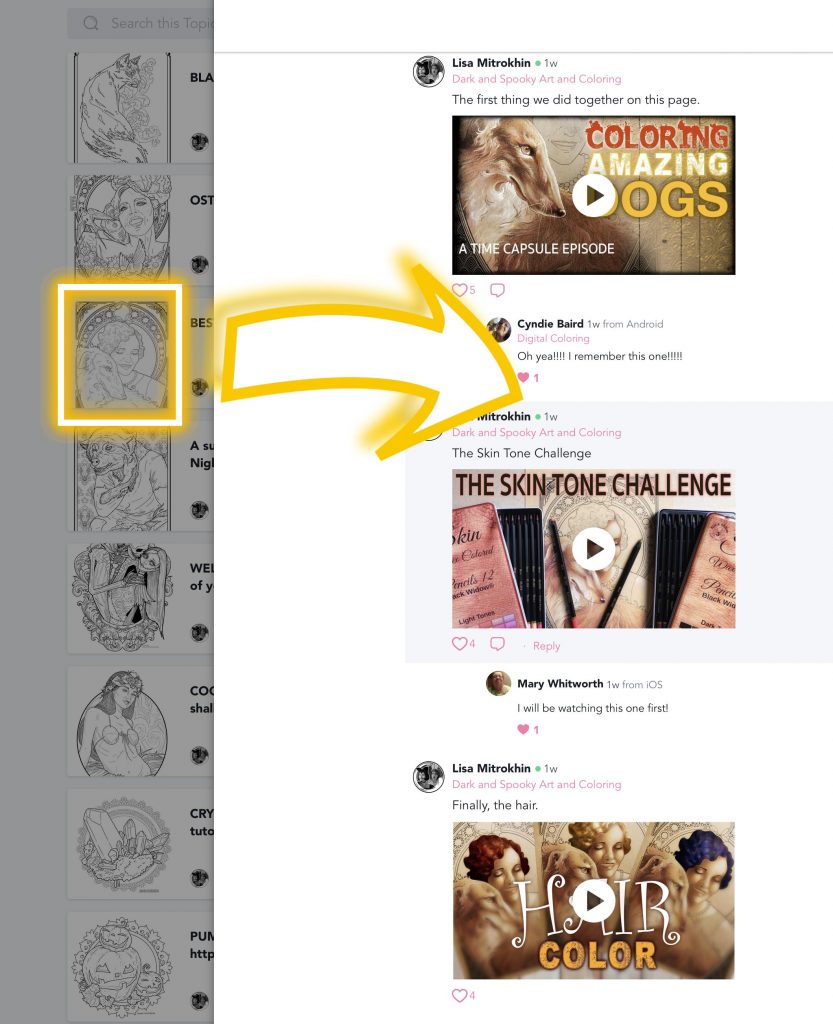 There's MUCH more to explore and enjoy, so come on by and join the fun at TALM. Don't forget to watch the orientation video. It's super goofy and fun.