All dolls have personalities. Some are born with a unique personality, as they are lovingly hand crafted by artists and artisans, others acquire their personality in the days that follow their escape from a factory assembly line. Deathica (a name given to her by her current owner) is not a hand-made doll. She was manufactured in accordance with her mold in the year 1980. However, in the years that followed she developed quite a bit of personality, unfortunately it wasn't very glamorous. Deathica's most recent child owner found her to be messy, unkempt and frankly scary. The human girl never bonded with the doll, and on the rare occasion that the two interacted, she only defaced the toy further by doodling on her face and body with markers before discarding her yet again. When Deathica came to her final home, the Oklahoma home of my good friend Laurie Gregory, she was a sad and timid creature. She is not a scary doll by any means, but it is evident that life has not been kind to her. Laurie took matters into her own hands and shipped her new plastic friend all the way to central Chile, where I live. Her request was simple: give this girl the makeover that she deserves. Laurie explained that she would like the doll to remain sweet and childish, but to acquire a sense of confidence and perhaps have her lean more towards the gothic style. The following is a photographic story of Deathica's transformation.
My first impression of Deathica was that she was greatly misunderstood. That she wasn't in such a bad shape after all, and didn't need a lot done to improve.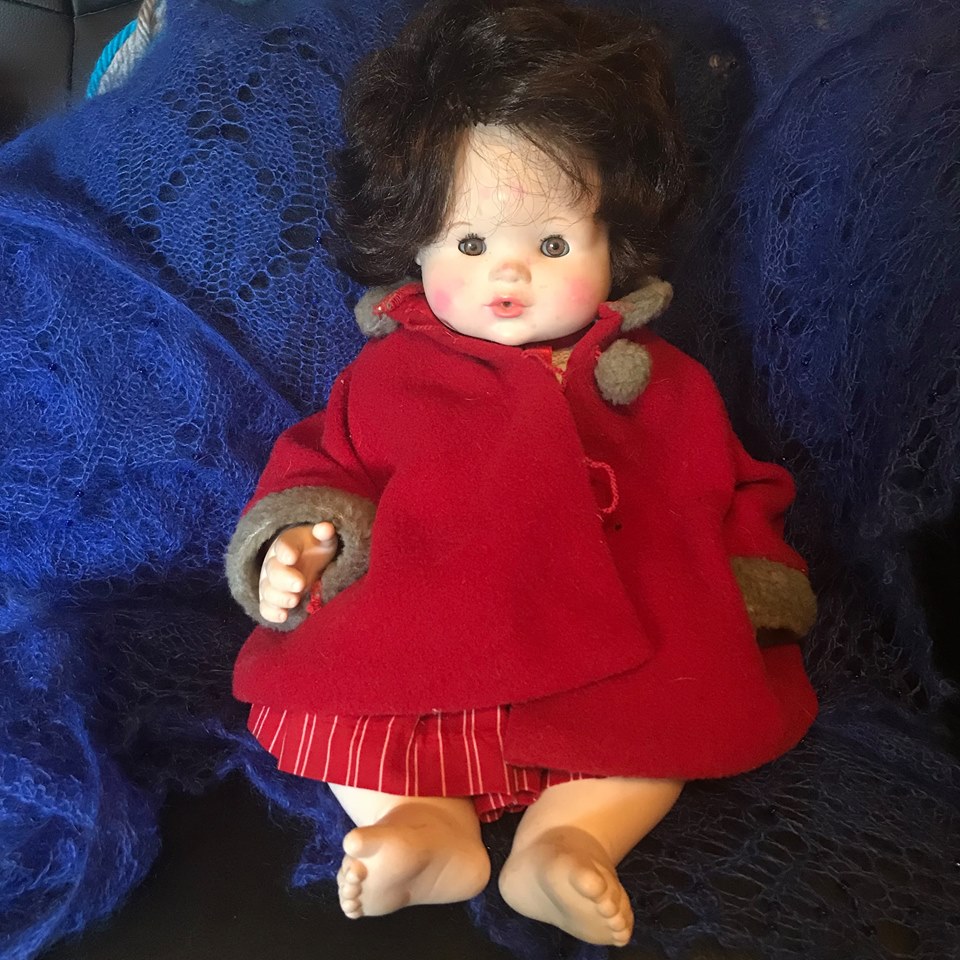 Upon closer examination I could see more of the problems. Her face, already rather plain and boring, was made even worse by the many smudges and markings that someone clearly tried to remove and failed. She once had an object in her mouth, most likely a pacifier, but it was now gone, leaving her with an odd round hole between her lips.
Her hair line and the grotesque bold spots on her head made her look cheap despite the high quality of her synthetic brown hair. She clearly needed help.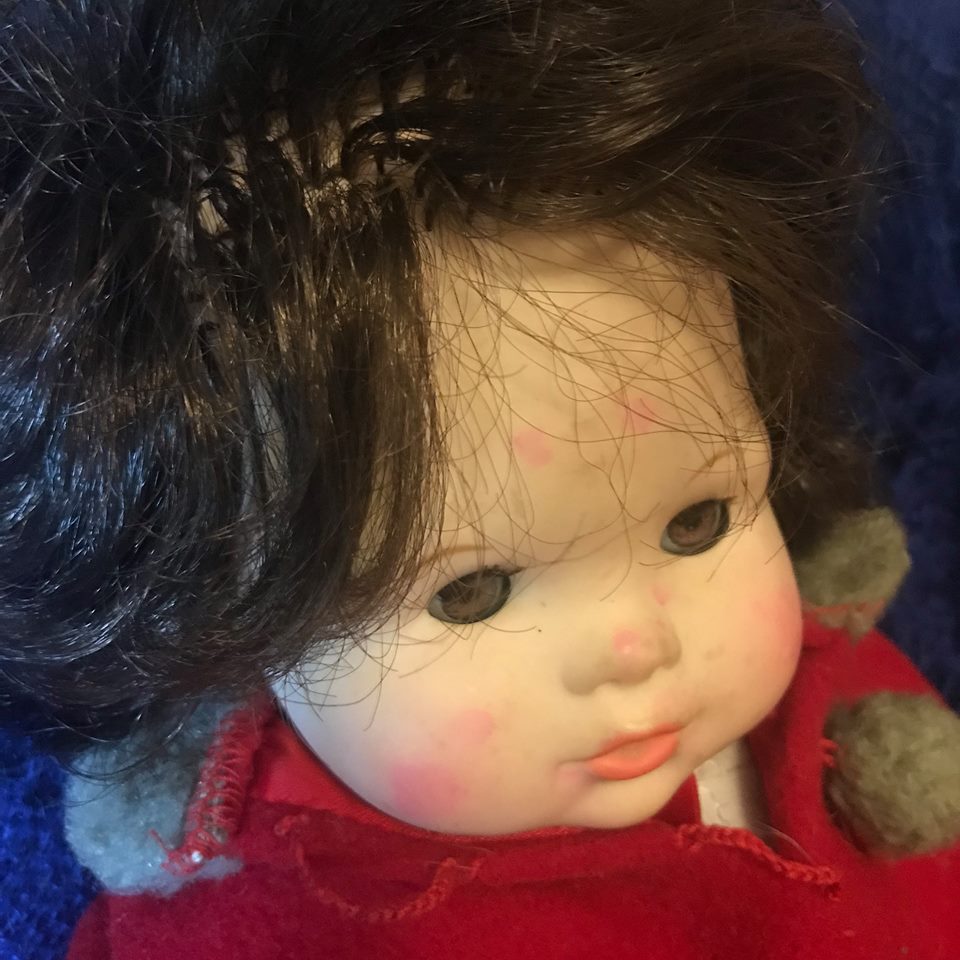 I began with the essential. Cleaning the face and painting it anew with a matching, but softer, tone. I did some minor repair work on her mouth, reshaping the lips to remove any evidence of the ugly round pacifier hole.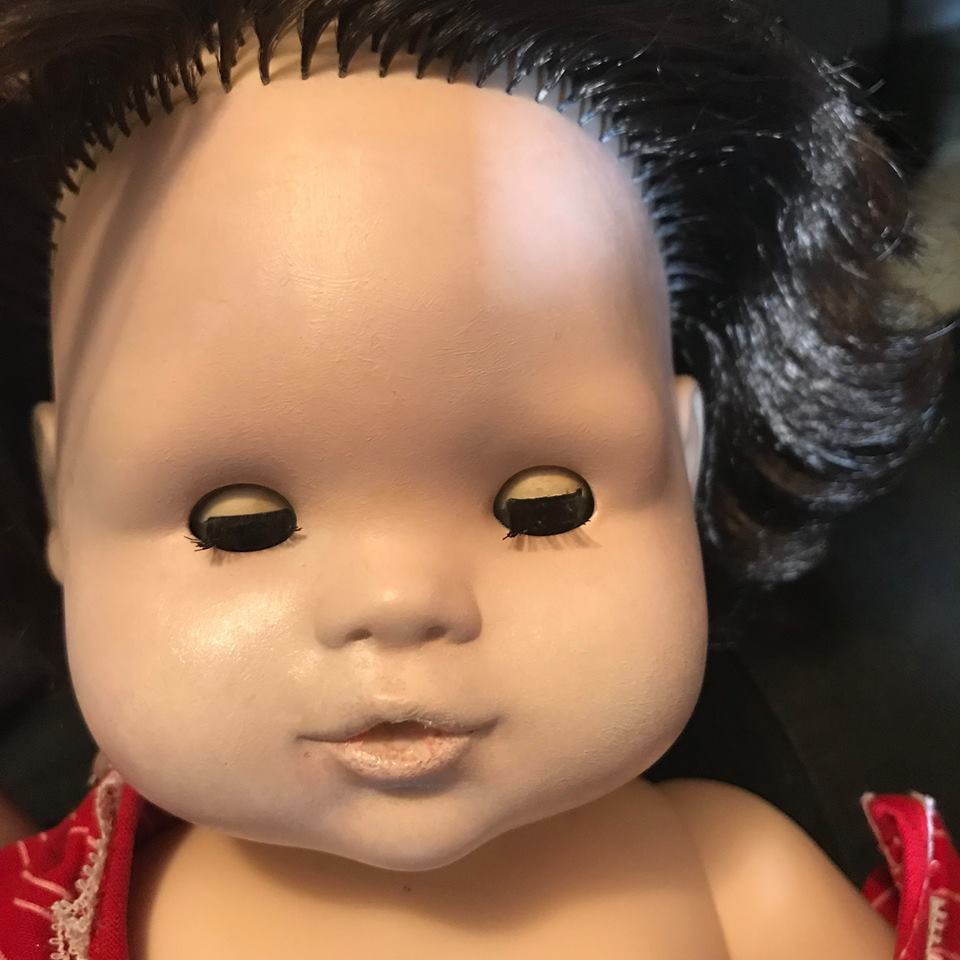 I painted her eyelids and around her eyes and gave her new eyebrows, and once I saw her new expression I was able to begin shaping her hairstyle. I cut off quite a bit, leaving her with shorter but fuller hair.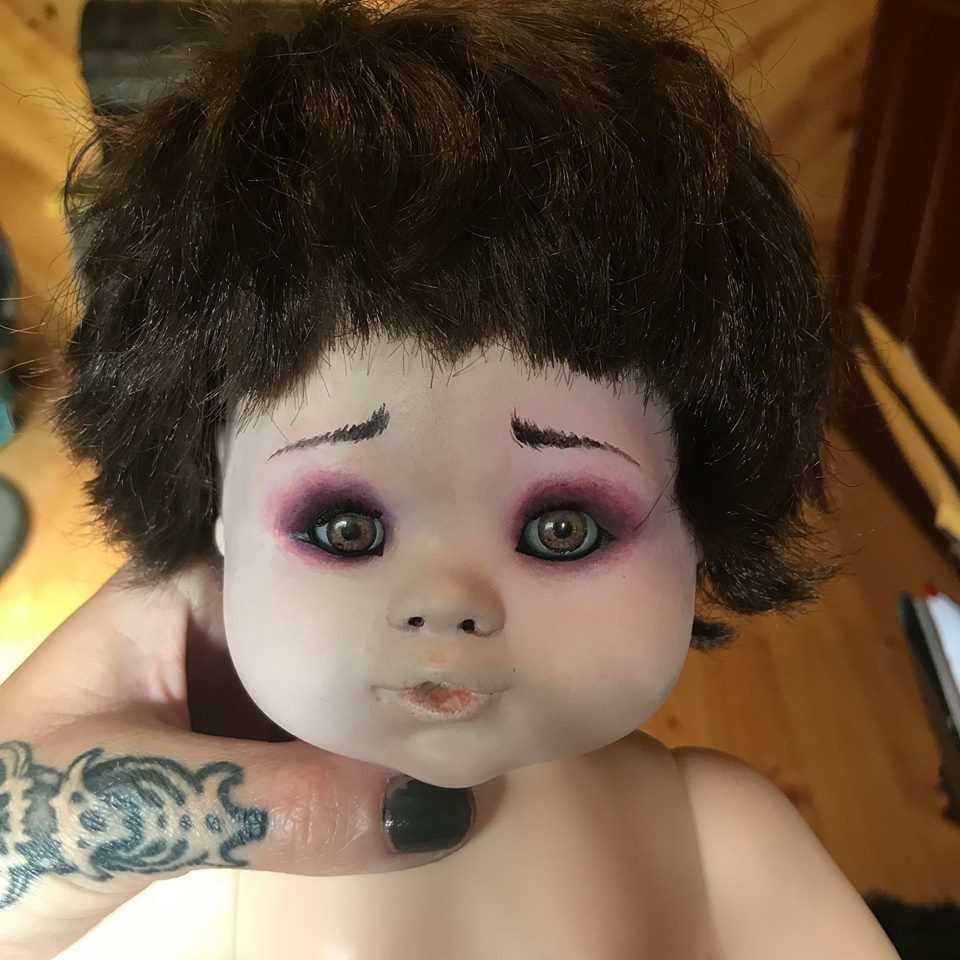 Having settled on the perfect hair length, I could now fluff and shape the hair by … well, that will remain my professional secret. All you need to know is that the hair is just as soft as ever, but you can no longer see the shiny pink scalp through it.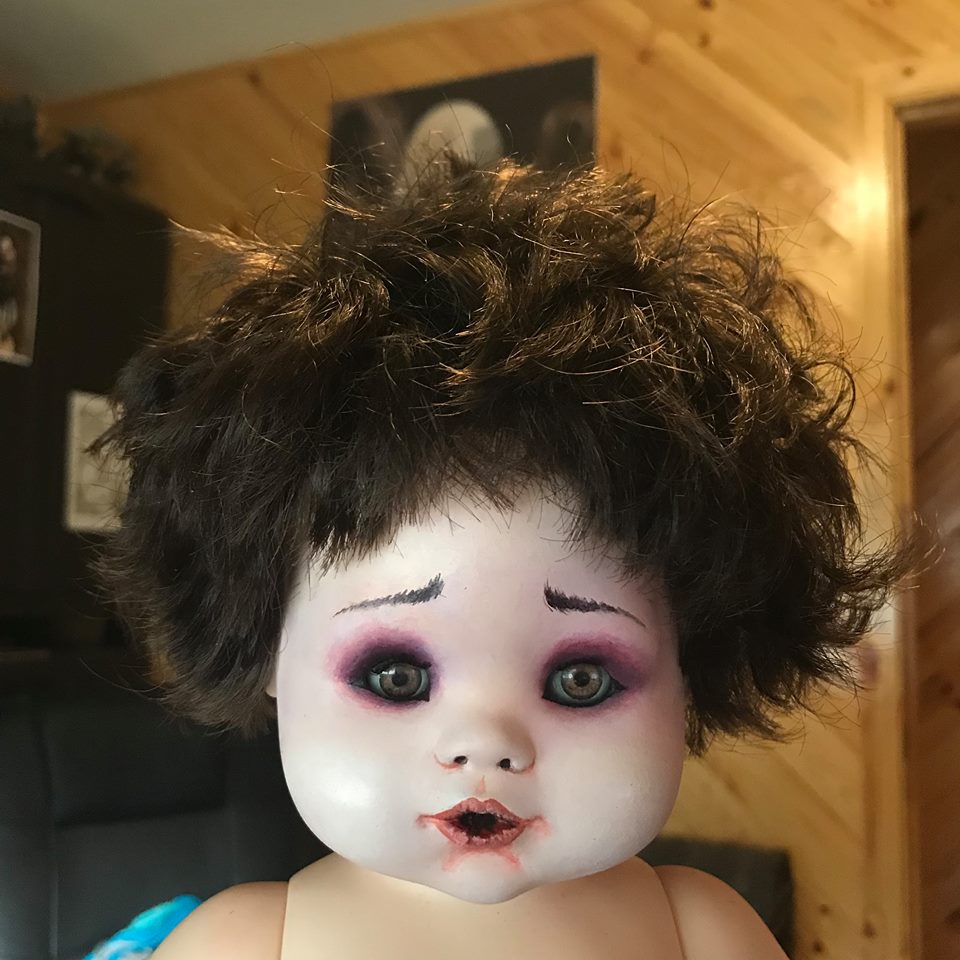 With her face finalized and lacquered to appear more like porcelain, I moved on to the clothes. The little shorts that she was already wearing were quite suitable. They just needed some basic mending to fit her and to stay on her.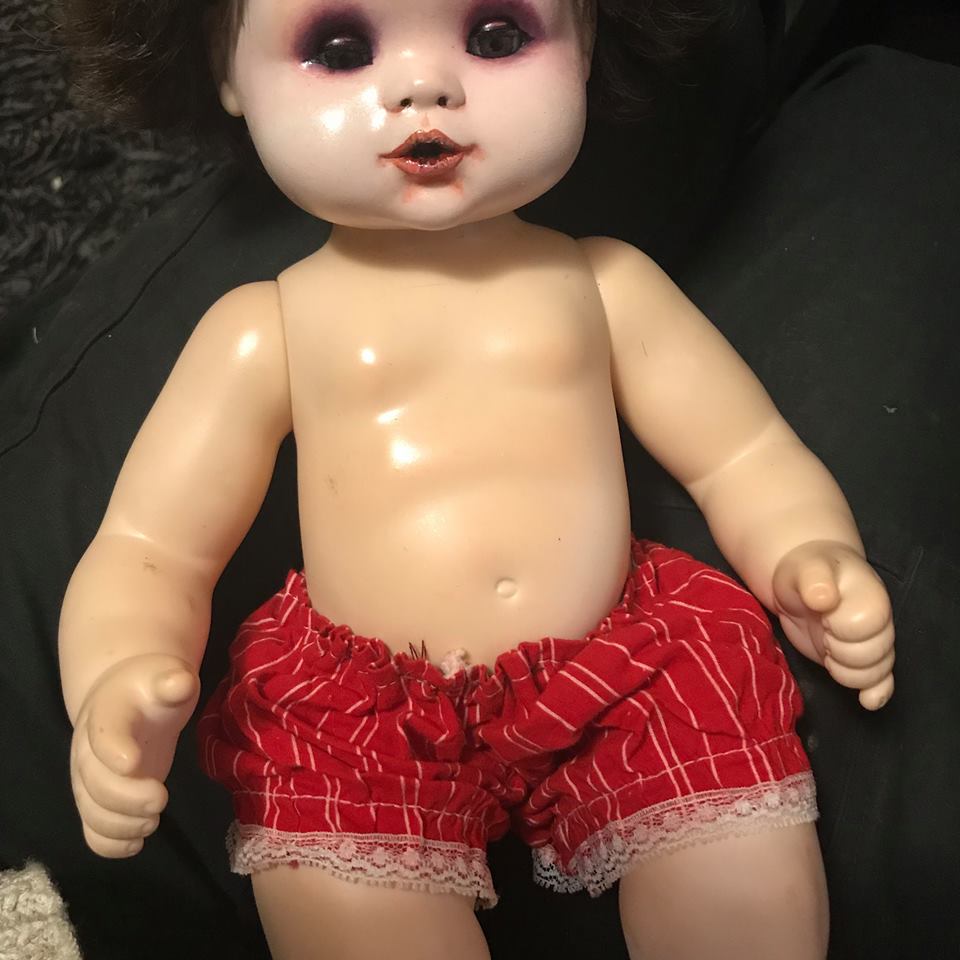 The rest of her dress had to be tailored and stitched from scratch.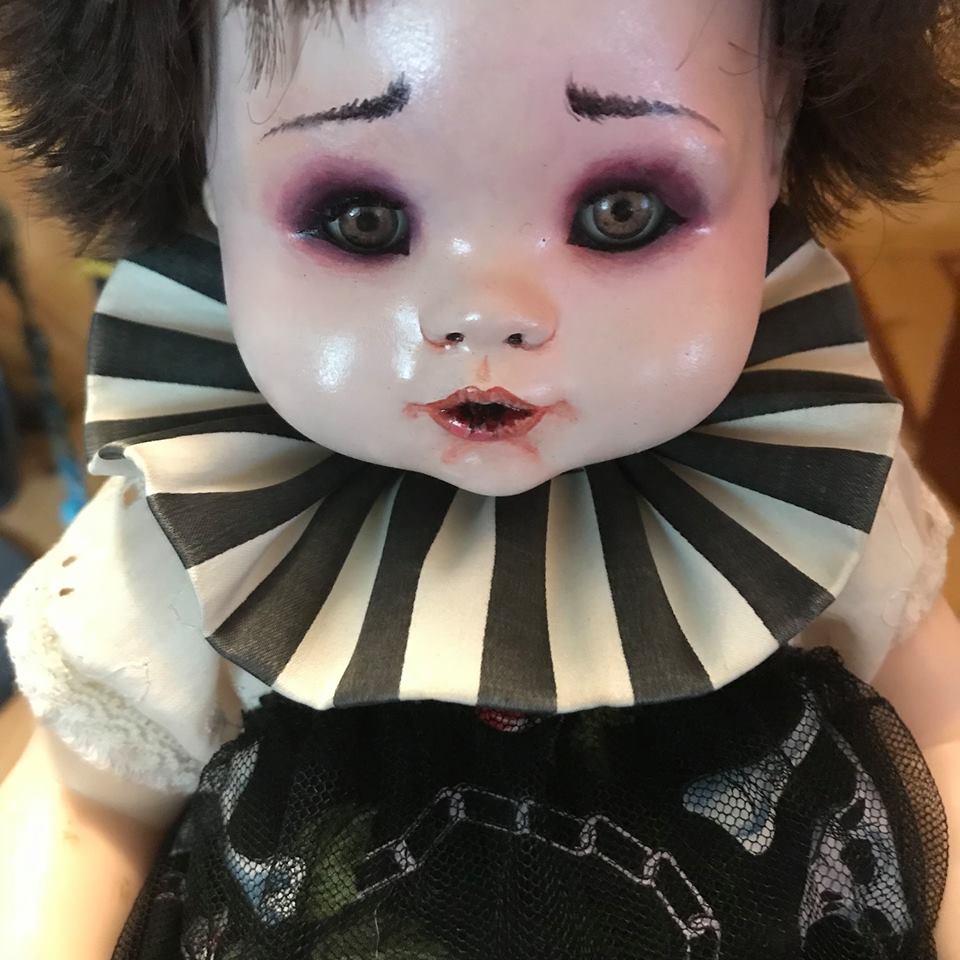 She now wears a long, bubbled skirt of my prettiest gothic fabric, covered with a thin layer of black chiffon, and aroung her neck she wears a striped elizabethan collar and an oversized button. Knowing Laurie's love of a clowns, I thought the stripped color with a button would be reminiscent of that style.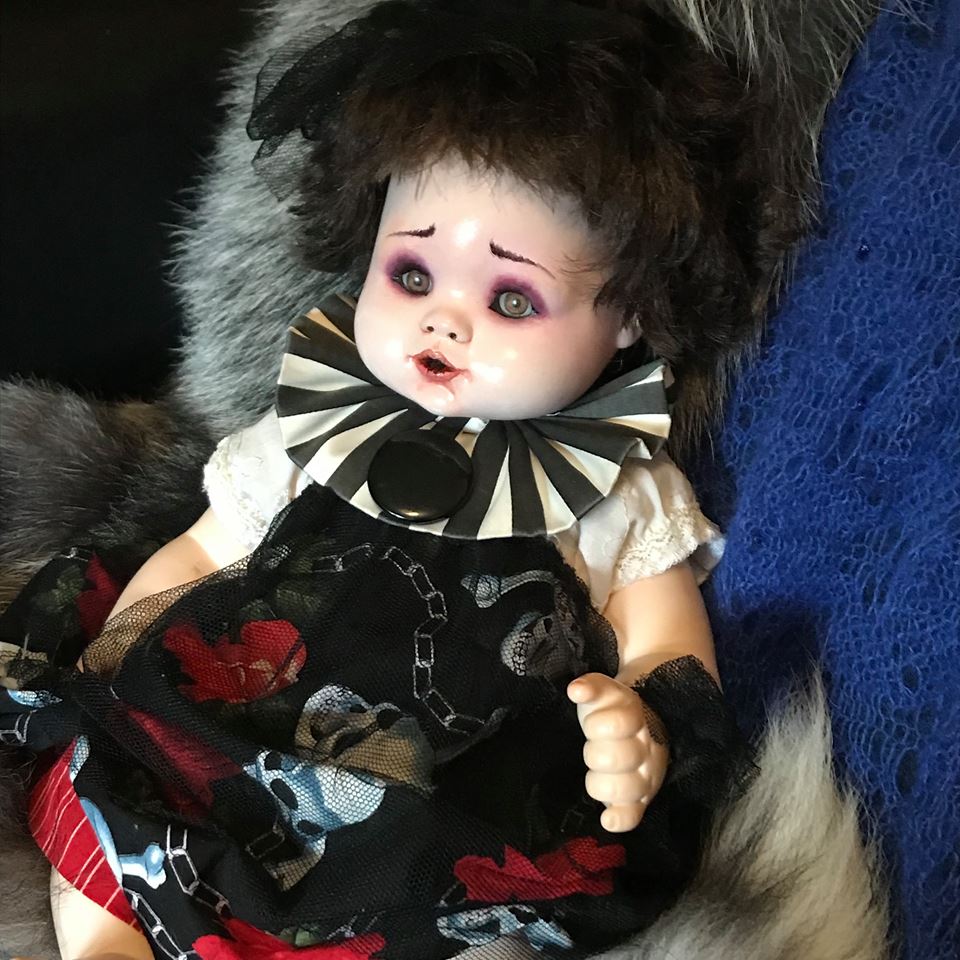 Her lovely new hair is decorated only with a single chiffon ribbon.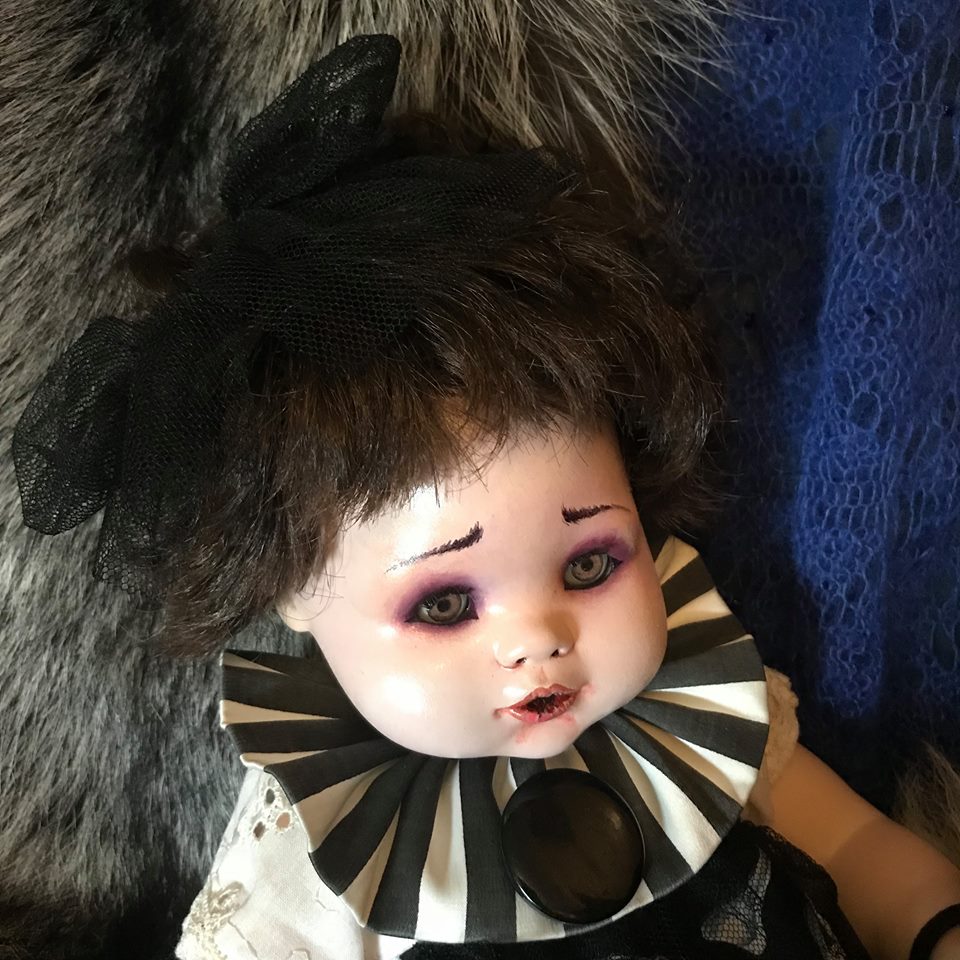 And she wears a matching ribbon around her left wrist.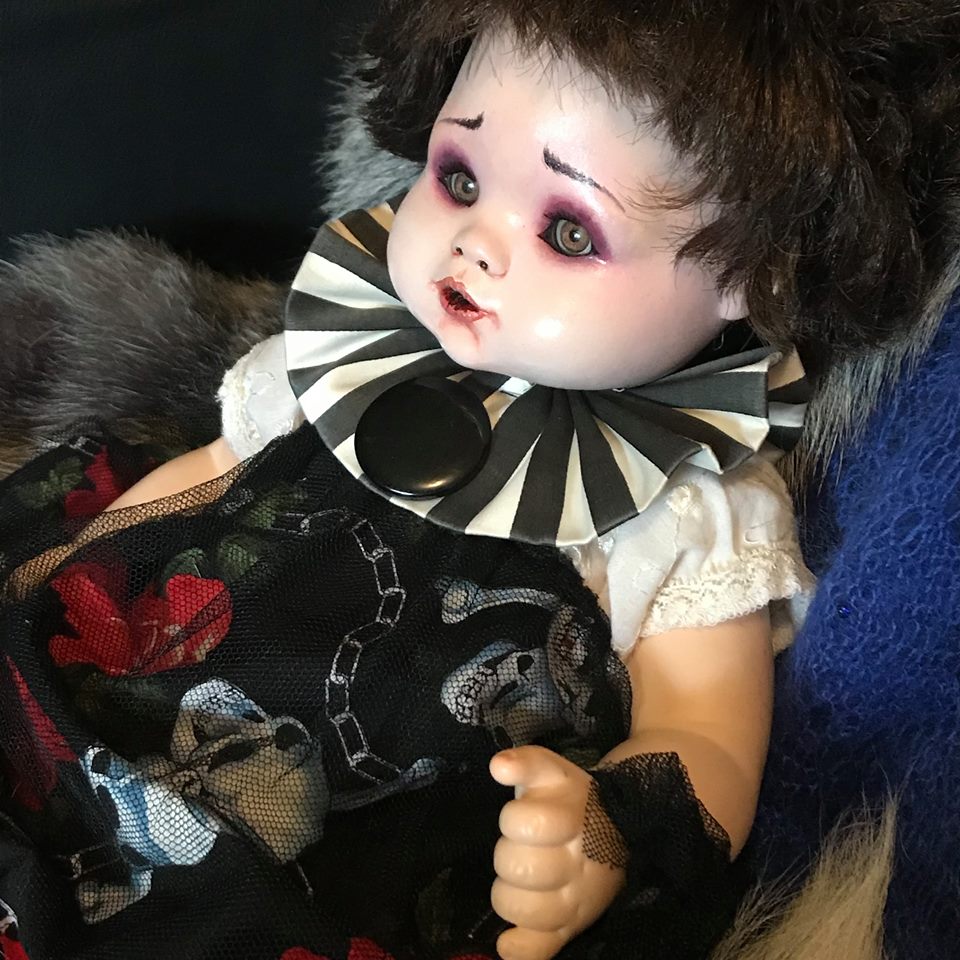 The important thing in any makeover is knowing when to stop. It is easy to overwork your project, driven by the desire to make it as radically different from the original as possible. But it is import to consider the elements in the original that work and just need to be highlighted or given a new life. This little baby doll didn't need radical changes. She just needed a day at the spa.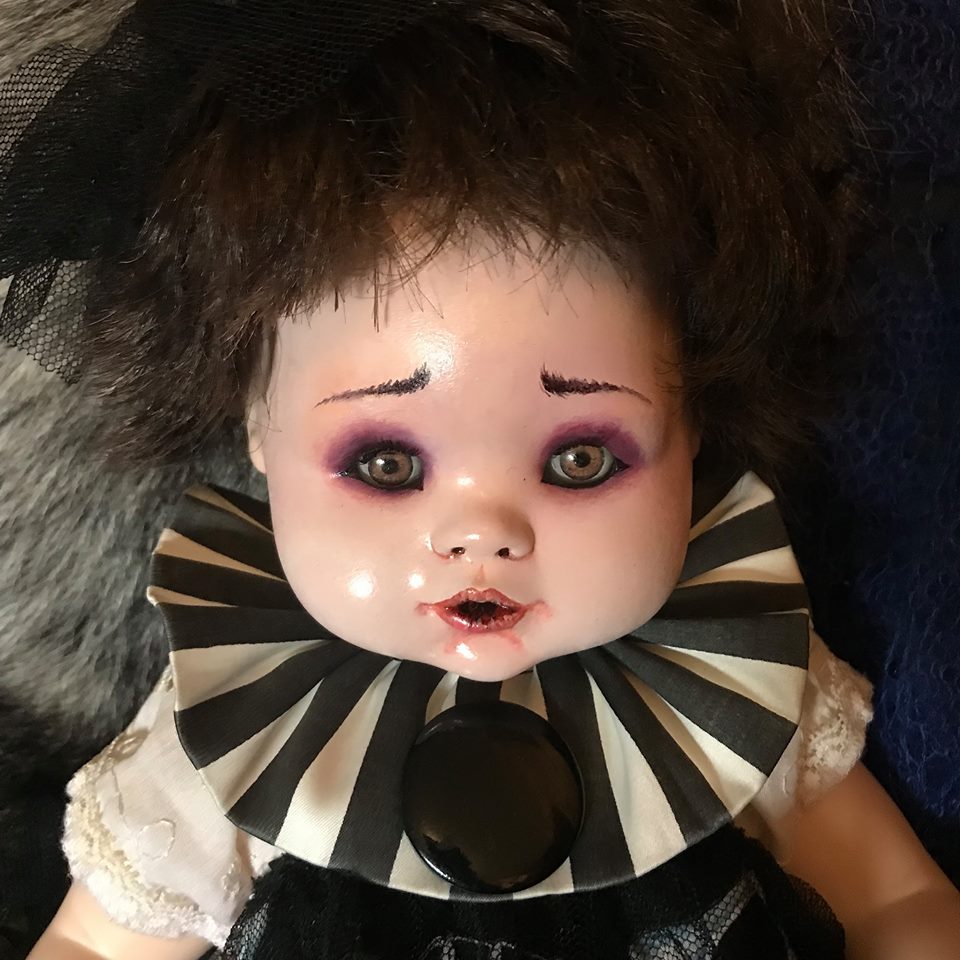 And, as Deathica packed herself into her shoebox, wrapping herself in purple tissue papers, and preparing to travel back to Oklahoma, she knew that she will live there happily ever after with Laurie.
Remember, kids, most things have a second life. You just have to give them a chance. If you have an old toy that may not look so attractive anymore, don't be quick to through it in the trash. Send it to me. I bet I can make it truly magical for you.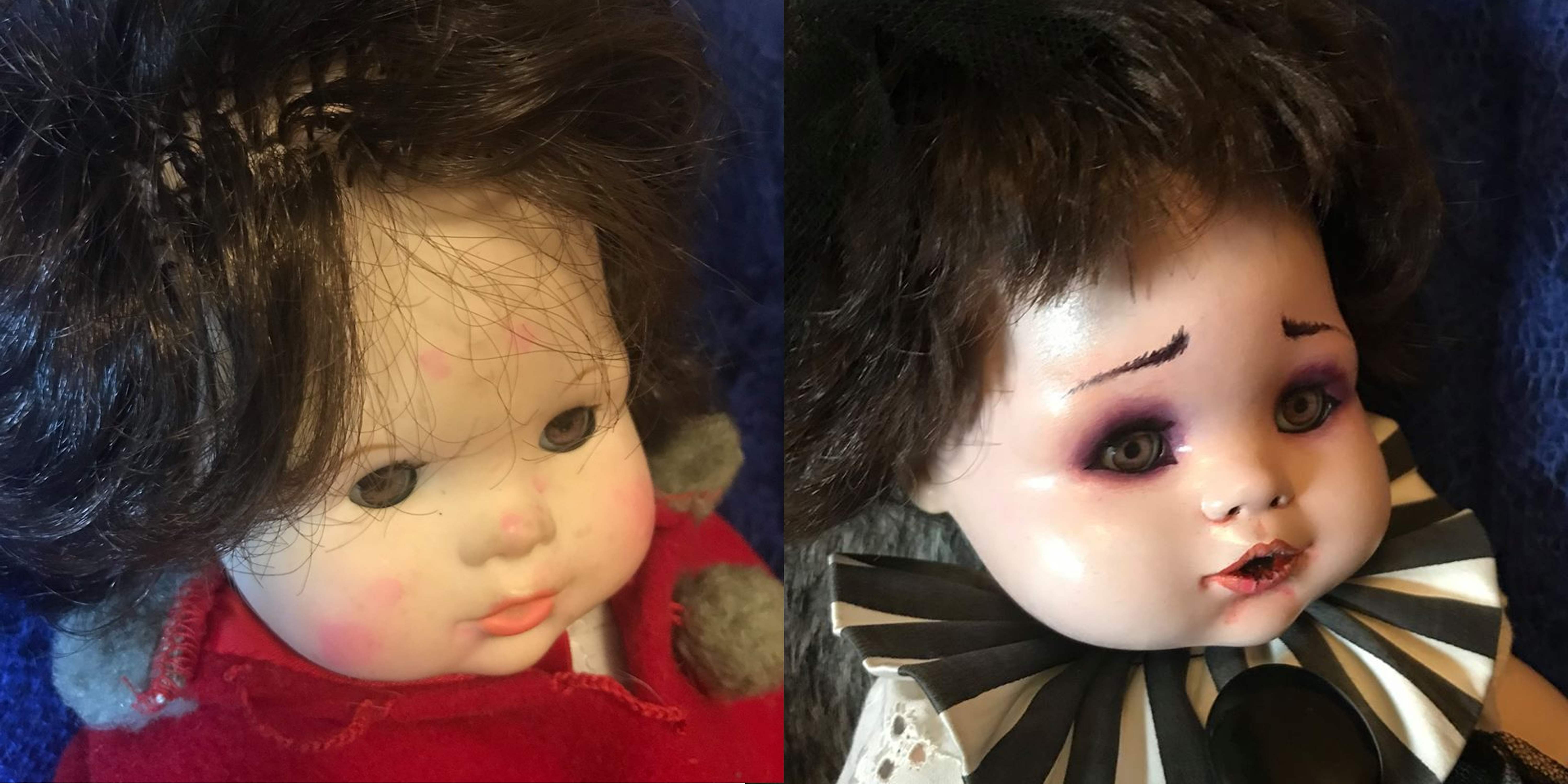 For my current original dolls please visit my ETSY shop, and to browse more creations check out my Facebook page Nights And Mares Toys.