2D
Analogue and digital drawing and painting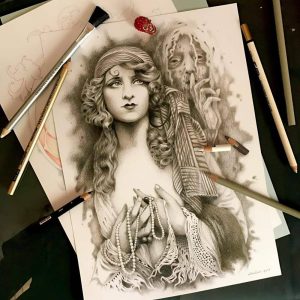 I believe that sketching and drawing are the basis of all visual arts. Being able to draft a concept is the very first step you take toward any creation in almost any media. This is why drawing is a skill that I practice for fun but also to stay in shape. Just like an athlete, an artist needs constant practice to sharpen their tools and learn new tricks. Despite the fact that at this point in my artistic existence I prefer to draw fantasy creatures and concepts from my imagination, I make sure to take the time to occasionally create something photorealistic. I often set goals to keep things interesting. For instance, I may set a personal task of focusing mainly on realistic textures of fabrics, fur and hair; or I may focus solely on lighting; or I may even challenge myself to use a color palette that would not be my obvious choice.
However, even in these exercises, it is very difficult to prevent myself from inserting my own characters into the composition, like this ghost lady in the background of this vintage portrait.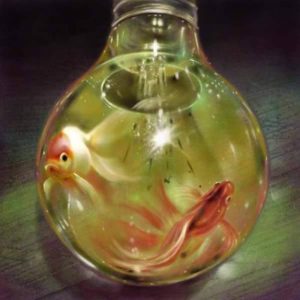 The story behind a drawing has always been the most important part of creation for me. If there is no story to tell, why draw at all? Even if the story is very short and basic, a character sketch even, or a momentary interaction, it is worth exploring and depicting.
When I discovered the world of digital painting, a Pandora's box opportunities opened up for me and my fantasies. I work with a painting simulation program called Corel Painter, drawing directly onto my Wacom screen with a stylus. There is no limit to what I do here. I create and modify my pencils and brushes, I can set the softness and harness of the bristles, paper type, lighting, I can even adjust the pressure sensitivity. All to simulate actual painting with real tools.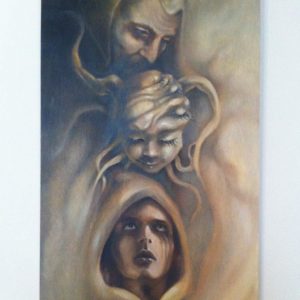 Of course, nothing beats good old fashioned oil painting and being physically covered in paint head to toe at the completion of a canvas. When I do paint with oils I tend to go big. My canvases range from a square foot to 4×6 feet, and sometimes even bigger. I stretch and treat the canvas myself. Having had classical training, buying a pre-stretched canvas at an art store is sacrilege.

The best part about being an illustrator who happens to love storytelling, is the ability to organize people's lives into frames and panels, and to caption them with speech bubbles. Occasionally I am asked to illustrate various events, real or imaginary. Here is an example of some pages that I did for a Street Wars "assassin" in NYC. After participating in Street Wars one year, agent Gangsta hired me to illustrate her actual adventures in this water pistol assassination tournament. To this day she uses her comic character as her profile picture in both business and personal accounts.